Microsoft Outlook is a great assistant for users all over the world. Its design and functionality are clear and simple. It incorporates diverse functions and possibilities. You may handle correspondence and keep track of the schedule, arrange meetings and set notifications. That is just a few of its useful functions. Still, sending and receiving emails is the primary function for which users choose this software.
Why and How to Archive Emails in Outlook
With instant access to the Internet, not every person thinks of storing emails somewhere else except for the folder of incoming mails. Only until some vital information was lost or the server was hacked. Outlook archive comes in handy in the following cases:
To back up vitally important data;
To free additional space on the drive;
To meet the legislative guidelines.
How to Archive Old Emails in Outlook: Several Easy Steps
So, if you need some outdated correspondence to be stored, you need to know how to archive emails in Outlook 2007 and further versions. Proceed as follows…
In Outlook 2019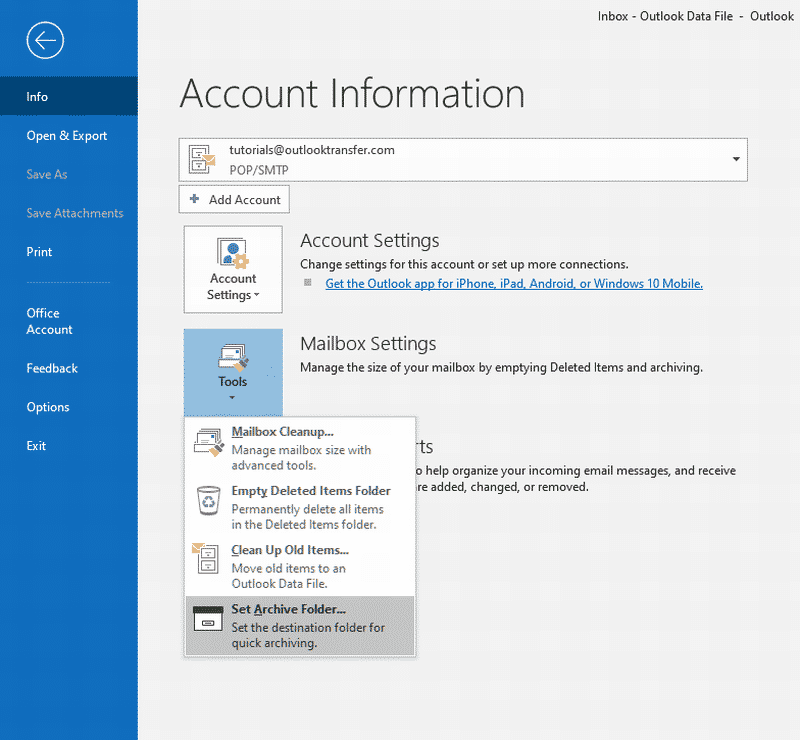 Click File > Tools > Set Archive Folder… in the "Set up On-Click Archive" dialog select or create a folders where archived emails should be moved and click OK to confirm.
In Early Outlook Versions
Click on File > Cleanup Tools > Archive… > click on the folder or that has to be archived. There is the field of Archive Items Older Than.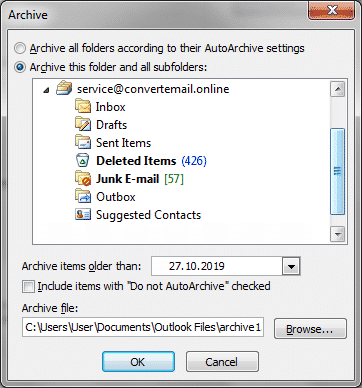 Indicate the date until which all the emails will have to be archived. There are also Autoarchive settings that should be checked and modified if needed. Further, you will have to choose the location where to store a new archive. That is it.
If you need to know how to archive emails in Outlook 2010, you will need to click on the tab File, then choose Cleanup Tools. Pressing Archive, choose the option Archive this folder and all subfolders. All the remaining steps are the same as previously listed. While to archive emails in Outlook 2013, click on the File tab > left-click on Info > Cleanup Tools > Archive. All the further steps are already known.
How to Archive Emails in Outlook 2016: Other Possibilities
The users of 2016 software should go to the File tab and click Tools > choose Clean up old items. All the next steps are already described. However, those who use the web version of Outlook (Office 365) should first enable this possibility:
Go to the website for the security and compliance of Office 365, log in.
After, it is necessary to find the Security and Compliance Center.
Find Data Governance > click on Archive.
Enable the possibility to archive the folder that is needed.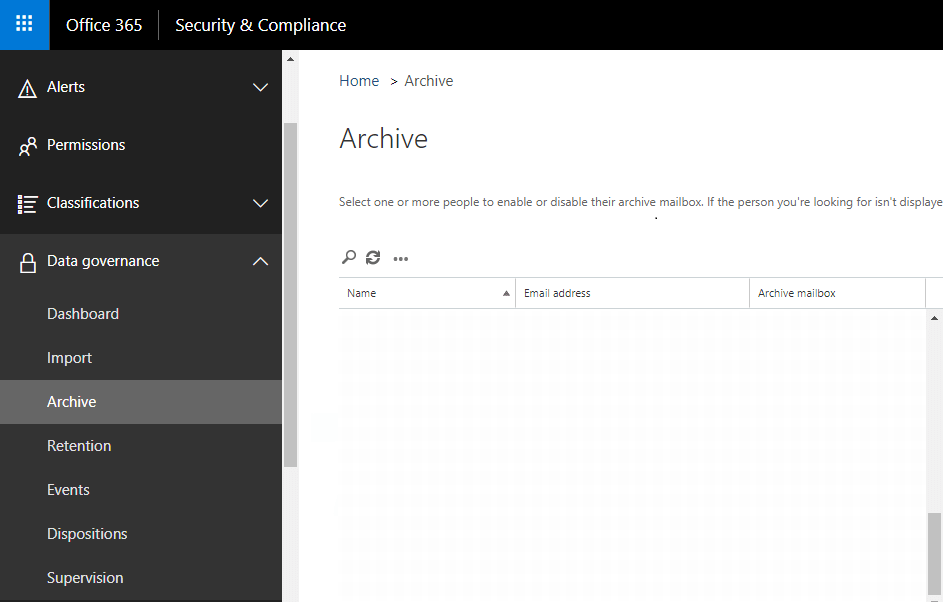 After this function is enabled, archiving is possible. The steps on how to archive emails in Outlook 365 are as follows: choose emails in the folder > click on the icon Archive. There is also the possibility to archive emails separately. Select and right-click > press on Archive.
In most versions, in the window of a folder's properties, there is a button AutoArchive. By clicking it, a user can set automatic archiving of emails. Doing this manually is not always convenient, thus, one may opt for the use of software that facilitates the experience with Outlook even more. Be sure to stay on the safe side and keep vital information for future reference.
Special Tools for Outlook Email Archiving
Daily archiving of emails and other Outlook items requires an integrated approach, so professionals use special utilities that automate the procedure. At the same time, professional utilities provide additional options such as formats conversion and filtering of the archived messages. Data Extraction Kit for Outlook software provides professional options for Outlook data archiving of any scale:
Outlook emails archiving in EML, MSG, HTML, TXT formats.
Additional option to generate a court-friendly PDF files.
Archiving of Outlook calendar, notes, contacts and other items.
Archiving of email account settings including Outlook passwords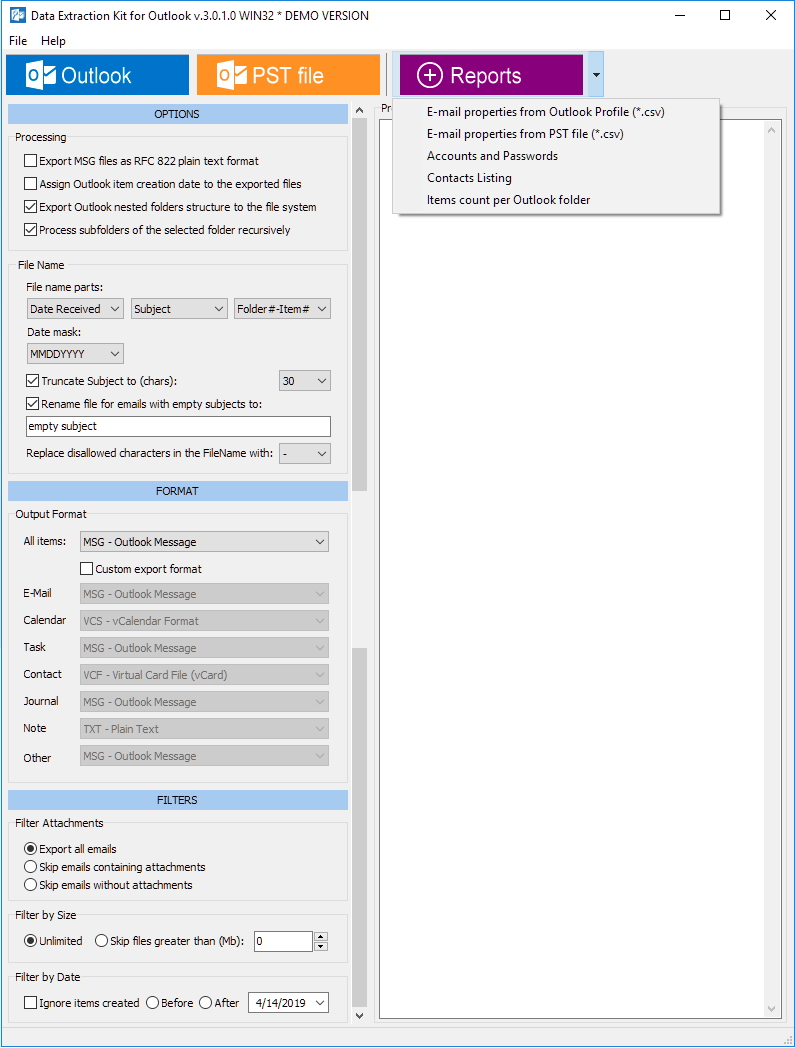 Read also:
More Knowledge Base articles
---
iCloud synchronizes your user data across your devices. It serves as a backup and allows easy sharing of photos, notes, videos, and other files with friends and family. If you…
---
Users print emails from Microsoft Outlook for many reasons. The email may have a form that they want to print, fill out, and submit. Many people retain a physical copy…
---
MS Outlook is a useful software for handling email communications, keeping track of the personal schedule and important dates, storing contact information, as well as other essential information. Outlook uses…
---
If you use Microsoft Outlook to manage your email, you may, at some point need to find old emails. This can be difficult if you don't know where to look…
---
Emailing is an integral part of everyday business and private communication. It is common for people to migrate from one service to another until they find the one that meets…
We are sorry that this post was not useful for you!
Let us improve this post!
Tell us how we can improve this post?