Initially, Microsoft Windows used the WAB application (Windows Address Book) to store the contact information, later it was replaced with the Windows Contacts app interface, which has its own API and allows software developers to integrate contacts into various Windows applications. The Windows Contacts application supports working with CSV, WAB, VCF, LDIF contacts files as well as XML files with the .contact extension. It supports contact grouping by creating contact groups. Follow our guide to import contacts into Outlook.
What is the .contact file?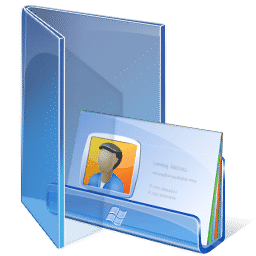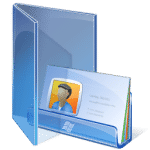 The *.contact file format is based on XML markup and consists of many specific tags that allow to store both text and graphic data such as a photo of a contact person. Individual .contact files are located in the special folder of the Windows Contacts application and all contact fields are indexed by the system, so contact information can be quickly found using Windows Search box.
Despite the possibility of integrating with Windows applications, files with the .contact extension cannot be directly imported into MS Outlook. However, a fairly simple method of importing contacts to Outlook exists. To do this, you need to export contacts from the Windows Contacts application to individual * .VCF (vCard) files and these VCF contact files can be imported into Outlook or converted to PST format. Another option is exporting contacts to a CSV file.
Converting .contacts files to VCF format
Type in the "wab" command into the search field (the field with "Type here to search" text) and press Enter button. Alternatively you may run the Files Explorer and enter C:\Users\<username>\Contacts in the Quick Access bar (address string). Where <username> is your User Name in the system.

This will open Windows Contacts application containing a *.contact files.
Click the ">>" symbol to expand the menu (if it is not fully opened).

Click Export menu item,  select vCards (folder of .vcf files) format and click Export button.

Select "Desktop" and click "Make new Folder" button.

Click OK button.
Your contacts will be saved as *.VCF files to the New Folder on Desktop. The following message will appear:

Click OK to close the message, click Close to close the "Export Windows Contacts" window, click X to close the Contacts app. Now, you are ready to transfer contacts to Outlook.
Here is how to convert exported .contact files to Outlook
It is a very simple procedure: run VCF to PST conversion app, click the "…" button and choose New Folder located on your Desktop. Click the "Scan Folder" button and  the program will find all contacts for importing into Outlook PST file. Then click "Save PST", specify the PST file name and save your .contact files to PST format. That's it, now open the .PST file in Outlook, go to the Contacts folder and check your contacts. Let's follow the procedure step-by-step…
Open the VCF to PST conversion application. If it is not installed in your system, download and set it up.
Click "…" (browse button) and select the directory where VCF files are stored (it was New Folder on Desktop in our example above).
Now click the "Scan Folder" button and the program will scan for the contact files and subfolders. It will fill out the list of contact files which are ready to be imported to Outlook PST format.
Click the "Save PST" button and select the target folder to save the output PST file. It can be Desktop for example.
Wait till the end of conversion and open result PST file in Outlook by using menu File > Open Outlook Data File…
* - The unregistered version converts a limited number of contacts
How to import from PST file into MS Outlook
Now, you can feed the contacts into the mail client. Using a standalone PST file is particularly useful when you need to switch between accounts or computers. The method can move different data at once: messages, contacts, tasks and calendar data. Importing is easy thanks to the in-built wizard. Here is what to do.
Open MS Outlook.
Access the import/export wizard through File — Open & Export.
Specify the source (you will be using another file).
Select the PST type and proceed further.
Browse to the location of the file you created and select it.
Choose an action for duplicates in Options and proceed further.
Enter the password to the file if it is protected (you will be prompted to do it).
In "Select the folder to import from" choose Outlook Data File to transfer its entire contents. Alternatively, you can expand it and select a specific subfolder (Contacts).
Choose import into the current folder or choose "Import items into the same folder in" and specify another mailbox.
Finalize by clicking "Finish".
Now, all you need to do is wait for completion. The progress box will disappear when the import is completed.
How to import contacts from CSV to Outlook
To import data from a file with the .csv extension, you need to use the same wizard. This method works for all popular versions of the mail client. You will move CSV contacts to Outlook smoothly.
Repeat steps 1-3 above to launch the wizard and choose import from a file. Proceed further.
Select the input format (CSV).
Browse to the location of the file and select it.
Choose an action for duplicates and proceed further.
Select the Contacts folder under the destination email account.
Click Finish if the file was created via Outlook, or use Map Custom Fields first. In this window, you can check if every Excel column will be matched with the right contact element in Outlook, and make changes if necessary — just drag and drop the categories from left to right. Then, click OK and Finish.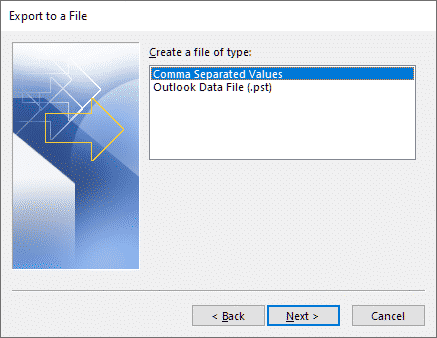 After the progress box disappears, you can check if your data has transferred successfully. Open the People section via the Navigation bar. The contacts should be listed.
How to transfer contacts to Outlook Online
Transferring to the online version is easy when you have a CSV file. To ensure accuracy, the contacts must be saved with the UTF-8 encoding. It is universal for all languages. Sign into your account on the web or Outlook.com. Do the following:
Click the People icon on the left.
Choose contact import by clicking the Manage button on the right under the bell.
Browse to the location of the .csv file and open it. The name of the file will appear in the box.
Click Import.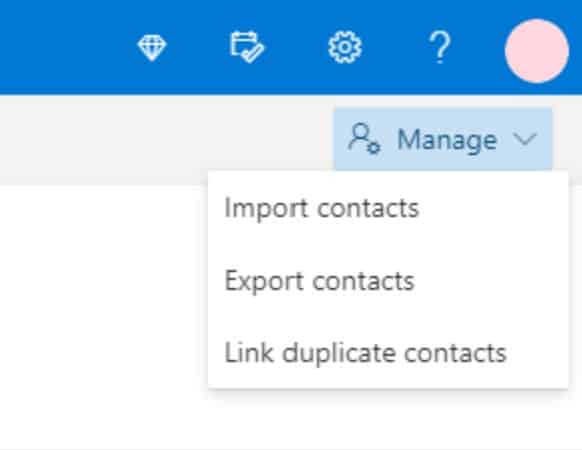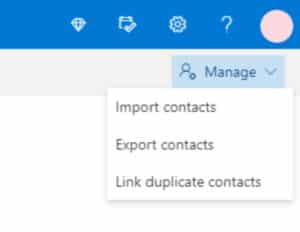 As you can see, the procedure is much shorter than in the desktop version. The system will process your duplicates in the default way — by creating new contacts. You can be sure your existing contacts will not be changed, replaced or deleted.
Brief instruction of importing .contact files to Outlook
Convert .contacts files to VCF format.
Convert VCF file to PST format.
Import contacts from PST file into MS Outlook.
Enable and use the imported contacts.
Final Words
Now you know three ways of importing address book into Outlook — using VCF, PST and CSV files. Merge your address lists smoothly in both desktop and online versions of the mail client. A universal converter will help you achieve the goal with guaranteed precision.
You may also want to know:
Other Tutorials
---
Mbox to Outlook Transfer – User's Manual The primary goal of Mbox to Outlook Transfer software is to assist users in moving their emails from any email client supporting the Mbox format to…
---
IncrediMail to Outlook Transfer – User's Manual This article describes different methods to convert IncrediMail messages and contacts to Outlook and other e-mail clients. Methods of automatic conversion that do…
---
Thunderbird to Outlook Transfer – User's Manual This user's manual covers the process of converting and transferring emails and attachments from Thunderbird to Outlook. Due to the difference in data…
---
MSG to Outlook Transfer – User's Manual Even though "email conversion" may sound technical and complex, it is a fairly simple routine if you have the right tool at hand. Conversion…
---
Data Extraction Kit for Outlook is a powerful all-in-one tool for Outlook/PST email conversion, migration and data analysis. The product can be used for extracting emails and other objects from…
We are sorry that this post was not useful for you!
Let us improve this post!
Tell us how we can improve this post?