Gmail is one of the most popular systems for mail management. This web-based client is reliable, secure, and impressively flexible. You can access your correspondence from any device 24/7. There is no need to install the desktop software, and mobile apps for Android and iOS are sleek. However, many users prefer Outlook, particularly for corporate use. 
Outlook is incredibly versatile. It may be used with Google, Yahoo, and other accounts. Google messages can be added quite easily, but what about the contacts? Follow our guide to transfer them smoothly into any version (Outlook 2016, 2013, 2010, and others).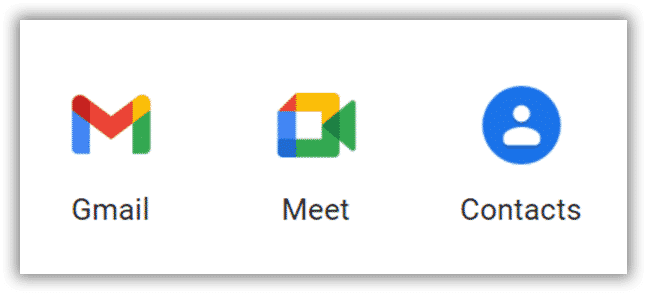 If you need to transfer the contacts only, you should first turn them into a PST file. This works can add Gmail contacts to Outlook for both personal and corporate use. If your organization relies on Google Workspace (G Suite) accounts with its own domain, you do not need to move the entire range of data. Our guide will provide all the necessary information for selective transfer. You can also copy all your contacts if necessary.
Stage 1.
Export Contacts from Gmail
The basic Gmail account functionality allows you to export the data quickly. This is a straightforward process. To save only particular entries, you can label them first. Create a new label using the menu on the left and assign it to any items on the list. During the export of Gmail contacts to Outlook, you will have an option to transfer this folder exclusively. 
Log in to your

Gmail account

.

Click on the Google Apps icon in the upper right corner. *

Click on

Contacts from Gmail

(a blue circle).

On the left, you will see a menu. Find the 'export' option (above 'Print'). 

Choose the category you want to transfer ** and specify the target format. ***

Click on the export button to have the file generated.



The system will export contacts and save the file automatically.
* – Google Apps icon is a square consisting of 9 dots to the left of your name.
** –  e.g., 'frequently contacted' or any label you have created.
*** – export format such as CSV for Outlook, other options are CSV for Google and vCard for iOS.
Stage 2.
Add Google Contacts
to Outlook
After extracting the contacts, you can start importing them into MS Outlook. The following method is applicable for all popular versions of the system since Outlook 2013. The procedure involves the use of the default wizard. Open the mail client and do the following to move Gmail contacts to Outlook in a manual way.
Open the File.
Summon the wizard via the 'Import/Export' feature in the Open/Export menu.
Choose a different program or file as your source (import from another program).

Choose the format of your exported file (CSV stands for Comma Separated Values).
Browse to the contact file.
Choose an action for duplicates.
Assign the destination folder for import (Contacts in the tree structure) and finalize the importing process.
Now, all the contacts you saved should appear in the mail client. To check if the migration of Gmail contacts to Outlook has been successful, go to 'Contacts' via 'Address Book'. The system will show all the entries stored within it, including the newly imported ones. 
When
Copy
Attempts May Fail 
The manual method for the Gmail account is not too sophisticated — even the average user should cope with it. However, it also comes with important limitations which justify the use of special utilities. Here are the most important issues users face when trying to import Gmail contacts to Outlook:
You can encounter unexpected errors if you try to transfer over 2,000

Gmail contacts to Outlook

at once. Experts recommend splitting your volume into several CSV batches. For example, you could split the entries into groups and then export them separately by the label. Alternatively, you could divide your

CSV file

using MS Excel. 

The exported

data

may not appear in

Outlook

because the file does not contain any contacts. 

When you

import contacts,

some of the information may be lost. If this happens, you could open the

CSV file

using Excel and fill in the missing details first. Names or other information may not be saved properly. 

It is only possible to transfer contacts from one

Google account

. Corporate users (often, small or medium-sized companies) may rely on G Suite services that connect several accounts. They cannot get the job done in one go — move all

Gmail contacts to Outlook

— without a special utility. 
Automated Solution:
Import Contacts from Gmail to Outlook
via
PST
You may use the vCard to Outlook Transfer software to move the data and import contacts securely. This will guarantee a smooth and hitch-free process. After contact export, the tool will create a PST file from your vCard data. Here is how to create the latter via Google Takeout, a native web-based service. 
Visit the Google Takeout page.

Uncheck all the boxes except for 'Contacts'.

Make sure the data will be turned into vCard, not

comma-separated values

(

CSV file).

Click Next. 

Choose how you want to

save

the file (get a link to your email address, add it to Google Drive or another cloud storage).

Choose whether to download them once or export them regularly.

Choose the type of archive and its size (large volume will be split into batches). 

Wait for completion (you will also see a download link on the screen).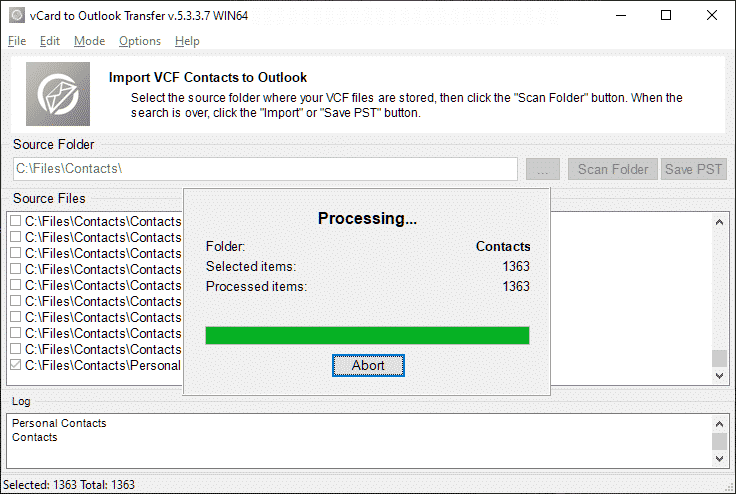 * - The unregistered version converts a limited number of contacts
Now, you have a file you can feed into the converter for Outlook. Open it, browse to the folder containing your vCard file and let the system scan it. Choose whether to sync the contacts with the Outlook profile or a standalone file. As you can see, you do not have to import your contacts manually. Launch the conversion button and wait a few seconds. Voila! 
Conclusion: How to
Sync
Now you know how to import Google contacts to Outlook. The automated solution will let you import a file directly into your existing profile. Just save your address book contents as vCard and enjoy a hassle-free migration. Google Takeout is a convenient service that can be used for the export of any information, from contacts to photos to shopping lists. 
Manual export to Outlook is possible, but it comes with a number of limitations. Sometimes, Google contacts do not get transferred properly. To prevent typical issues, use a special utility for the task.
Read also:
We are sorry that this post was not useful for you!
Let us improve this post!
Tell us how we can improve this post?