There is no arguing that finding a perfect tool to transfer contacts from Outlook to Gmail account, manage and organize personal information, especially contacts, is very important in the modern world. Microsoft Outlook is a perfect solution that offers a lot of effective and useful features. Although they may seem easy first, sometimes some questions appear. For example, a question on how to transfer contacts from Outlook to Gmail is very common and will be answered in this article.
Table of contents:
Steps to Import Contacts to Gmail
First of all, it is necessary to distinguish two functions of Microsoft Outlook that are connected with the contacts' list. There are Outlook Contacts and Outlook Address Book. The former is a list of personal contacts and numbers, while the latter can also include addresses and notes for Internet websites. In this perspective, it is only possible to export contacts from Outlook.
Exporting Contacts from Microsoft Outlook to Personal Computer
To import Outlook Contacts to Gmail, the first step would be to export the contacts. To do that, a user needs to open Outlook and find the tab File and click on it. After that, choose Options.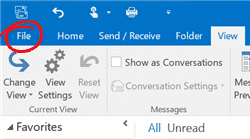 Then, there should be a list of possible actions. A user needs to find a tab Advanced and click on it. There will be a button Export that will initiate the process. After doing that, a window Import and Export Wizard will appear. One needs to choose Export to a File option and press Next.

The same action has to be done with Comma Separated Values. Then, there will be a window where one can choose a contacts' list that needs exporting. The next step would be to give the file a name and choose a place to save it on a personal computer. After clicking Finish, a user has successfully exported contacts from Outlook.
— OR —
Export Outlook contacts to vCard files
Run Data Extraction Kit utility
Ensure that Format options group is configured to use the "Custom export format" and "VCF…" is selected as a Contacts export format

Press "Outlook" button
Choose Outlook profile to use
Select the Contacts folder in appeared window and press "Done"
Program will save contacts to vCard files
Importing Contacts from Personal Computer to Gmail Account
Nevertheless, it is not the end. The next step on how to transfer contacts journey would be to import Outlook contact to Gmail. This will be much easier than exporting them. Firstly, a user needs to open the browser on the computer or laptop, find the Gmail website and log into the personal account.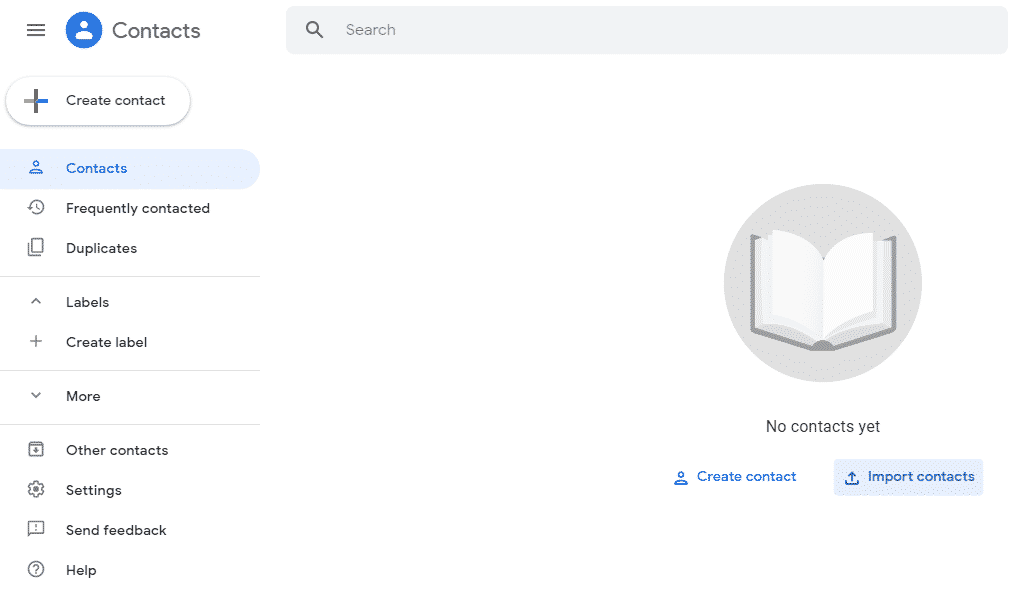 Go to https://contacts.google.com/ website and click "Import contacts" to proceed. After doing that, a new window will appear.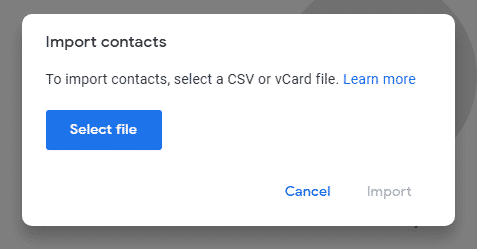 In the appeared window, there will be a button "Select file". Clicking it will offer a user to choose the CSV or vCard file to import.
Final Steps to Make
The job is almost done at this point. All that is left to do is choosing a file to import that was saved previously while exporting the contact from Microsoft Outlook. After doing that and clicking OK, user's contacts from Outlook would be transferred to the Gmail account. He or she will have the opportunity to use them while organizing Gmail correspondence. However, it is important to realize that the transferring process can only be done on the computer because a user has to create a file with contacts manually.
Microsoft Outlook and its contact managing service are easy and efficient. It allows users not only to organize their contacts in the program but also to transfer information to other platforms. The focus of this article was a guide on how to export Outlook contacts and transfer them to Gmail. The process consists of two steps: exporting them from Outlook and importing from PC to Gmail. The steps may seem complicated but with a thorough guide provided in the article, there should be no problems and difficulties.
More Knowledge Base articles
---
OST and PST are two of the major outlook data file formats. Essentially, they store information meant to be read or viewed in Outlook. While their primary purpose is to…
---
Connecting an email account to Outlook creates a local backup of that data on your PC. You may retrieve already downloaded or synced emails, calendar entries, contact information, and activities…
---
This quick TIP for those who want to convert their OST (Offline Storage or Offline Outlook Data File) to PST format without purchasing conversion software. This guide describes how to…
---
PST stands for Personal Storage Table.  Microsoft Outlook utilizes the file format to store email and other data in an easy-to-access form. Each computer and mobile device has its storage…
---
Table of contents: How to import Android contacts to Outlook using CSV file? Useful way to Export Android address book to VCF file How to Sync Android Phone Contacts With…
We are sorry that this post was not useful for you!
Let us improve this post!
Tell us how we can improve this post?