Windows Live Mail is a successor of Outlook Express that was a largely popular email client about 10 years ago, but was discontinued by Microsoft in favor of Outlook. The mail client remained fully operational until 2017, and still can be downloaded from third-party websites. It still works, it is free, that is why many people all over the world continue receiving and sending their mail using Windows Live Mail software.
However, Microsoft does not provide any support to Windows Live Mail users anymore and encourages them to migrate to Outlook. At the same time, it seems there is no official and 100% reliable way to import emails to Outlook from Windows Live Mail. Microsoft does not seem to bother. In this article we explain how to safely and reliably move your mailboxes from Live Mail to Outlook. On average, the process requires 15-20 minutes, most of which takes the automatic conversion process.
Converting emails from Live Mail to Outlook
The conversion process is simple. We simply take EML files from Windows Live Mail and then convert each one of them into a PST file or import them directly to Outlook. Of course, there are no any secret techniques here – you can try to do the same manually. But manual conversion is extremely time-consuming, so let's see how you can do this automatically – safe and sound.
Step 1: Download the email conversion software
* - The unregistered version converts a limited number of messages
Download our automatic conversion tool here and install it on the computer where your Microsoft Outlook and Windows Live Mail mailboxes are.
The tool is called Live Mail to Outlook Transfer. We designed it exactly to help you convert your mail to Outlook without hassle. Once you installed the program, run it to see the main window: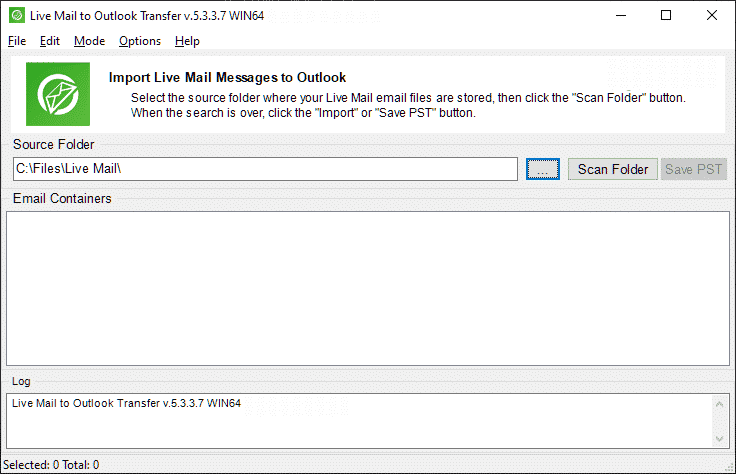 In the main window, you can see three buttons:
The browse button allows you to select a source folder where your Live Mail files are.
The "Scan Folder" button is for scanning the folder for all EML files in it.
The third button, "Save PST" is for saving the result as a PST file to open it later in Outlook.
Let's see the remaining steps of Live Mail to Outlook conversion.
Step 2: Select the source folder containing Live Mail files
Click the browse button in the main window to select the folder where Live Mail stores emails. In fact, normally the program automatically detects the folder and inserts it to the "Source Folder" box immediately after you start the program.
However, if you don't see a folder path in that box, or if this path is incorrect, you can specify the source folder manually as described above.
What if you don't know what your Windows Live Mail folder is? You can find the solution in the end of this article. From our experience, in most cases, Live Mail to Outlook Transfer auto-detects the source folder path correctly.
Step 3: Scan the folder for email files
Click the "Scan Folder" button or use the "File -> Scan Folder" menu to start scanning the selected folder for EML files and other mailbox data.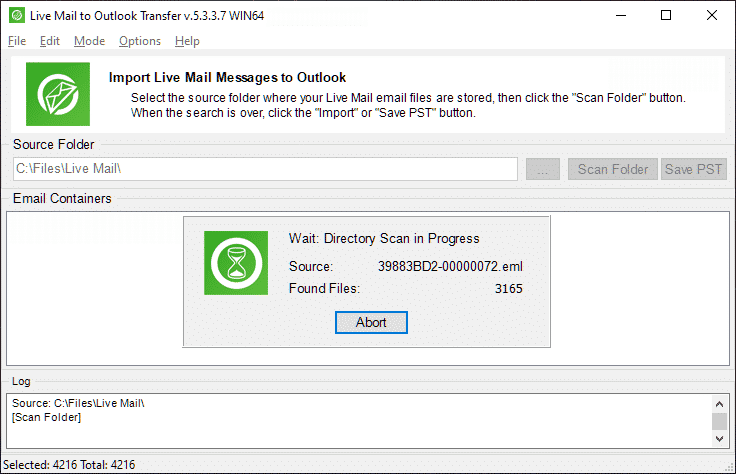 Scanning can take a few minutes and even longer in case of a real large mailbox with thousands of emails.
Step 4: Save as PST or send directly to Outlook
Now, you can export the emails to Outlook. There two ways to do this: export directly to Outlook (it must be installed on this computer), or convert emails to a PST file. Then, you can transfer this file to another computer and open it in Outlook. This option allows you to transfer Live Mail messages from one computer to Outlook installed on another PC.
To save all loaded messages to a PST file, click the "Save PST" button. This is a default option. Click the button, type the filename and save. Note, that you can append messages to an existing PST file by specifying its name here.
To import messages directly to Outlook, use the "Mode" menu to click the "Import to Outlook" mode. Then, select the Outlook folder where you want to import emails to.
The conversion process starts, and the program will automatically convert all EML files exported from Live Mail to Outlook.
Importantly, the program can automatically deal with various types of content including attachments, formatting of texts, images embedded into messages and so on.
Additionally you may convert contacts from Live Mail address book.
* - The unregistered version converts a limited number of messages
Conclusion
As you can see, moving from Windows Live Mail to Outlook is easy if you have the right tool at hand. Such tool is our software, Live Mail to Outlook Transfer.
We are sorry that this post was not useful for you!
Let us improve this post!
Tell us how we can improve this post?