Eudora to Outlook Transfer – User's Manual

Eudora to Outlook Transfer is a specialized tool for converting the content of Mailbox containers in Eudora's proprietary format to the format natively supported by Microsoft Outlook. Unlike other email clients using a more "generic" type of the mailbox format, Eudora's implementation has certain peculiarities that make it incompatible with the majority of *.mbx conversion tools.
Eudora to Outlook Transfer was created with a specific purpose of facilitating bulk email conversion from Eudora to Outlook and making this task easy to accomplish even for users with basic computer skills and no experience in data and email conversion. Therefore, we expect you to have zero problems with the program, no matter how inexperienced you are. For you convenience, we simplified the interface of Eudora to Outlook Transfer tool and made sure it only has the necessary minimum of control elements. Email conversion can be successfully performed with default settings, but if you know what you are doing, you are free to adjust them for optimal results.
Hassle-free email conversion!
Instant solution to convert Eudora emails to Outlook PST format and export Eudora messages to EML files. Download Eudora Converter and start your hassle-free Eudora migration now!
Below is a detailed guide to converting Eudora emails to a PST file on your hard drive or directly to Microsoft Outlook. Please make sure you have read this manual prior to contacting our technical support department.
The
mbox

 email format and peculiarities of

Mbox

to

Outlook

conversion

Mailbox is a common name for an entire family of email storage formats used by a number of email clients both on PC and Mac platforms. This format never made it to an industry standard, and cross-compatibility of program-specific implementations are solely at the discretion of their authors. Each *.mbx mailbox file is essentially an email folder with messages and attachments stored inside. The success of any conversion operation depends on the tool used and its ability to accurately extract data from the source, convert encoding and objects, and save them in the destination format.

Eudora to Outlook Transfer is a compact, yet powerful tool with a highly intuitive user interface that solves this problem for Eudora users and allows them to carry the content of their mbox email files over to Outlook – either to a standalone PST file or an existing profile. The software offers users an opportunity to save time and money by enabling them to perform conversions on their own. This way, they no longer need to pay for expensive outsourced services or wait for busy IT departments to process their requests.

We did everything possible to make the UI of Eudora to Outlook transfer software so easy and self-explanatory that it can now be used by anyone: from complete novices to professionals with solid experience in data conversion. As the result, conversion of a typical Eudora email archive takes minutes and requires the user to make just a few mouse clicks.
Getting ready for email conversion
Before you start converting your email files, you need to copy them to a single source folder. In case you are migrating from a Mac version of Eudora, locate the files on your Mac and copy them to the PC with Eudora to Outlook Transfer tool installed using any suitable medium: a USB drive, an external HDD or even a cloud folder in Dropbox or Google Drive.
* - The unregistered version converts a limited number of messages
If you are migrating from a PC version of Eudora, just find the *.mbx files in the program installation folder and either memorize the path to this folder or copy the files to a new folder that will be easier to navigate to.
Now that you have the files ready for MBOX to PST conversion, it's time to use our tool.
Below is a step-by-step guide to converting Eudora's MBOX files to Microsoft Outlook:
Start the program by clicking a desktop shortcut or selecting it from a corresponding folder in the Start menu.
In the main program window, click the button with three dots (…) to open the standard Windows folder selection dialog. Browse to the folder with your MBOX files and confirm your selection. The path to the folder will be shown in the source folder field next to the button.
Click the "

Scan Folder

" button. The program will scan the source folder and display the names of Mailbox files in the "

Email Containers

" area below.

You are now ready to start email conversion with default settings. Before you proceed, however, you may want to change one of the following options in the "

Options

" menu:
Check that email client is running – if the option is turned on, the program will check if

Outlook

is running at the start of email conversion. If it is, it will prompt you to close it to prevent potential data access conflicts.
Remind to disable antivirus – if the option is enabled, the

Eudora to Outlook Transfer

 tool will notify you that all anti-virus tools must be closed or deactivated during data conversion. If they are not, they may cause data access conflicts or confuse the work of our data conversion tool with malware-related activities.
Use internal format processor – switches between the default and alternative data processing mode. Choose this option if conversion in the standard mode was completed with issues or the quality of some results was not 100% satisfactory.
Prompt to select the Outlook profile – this option is only available in the "

Import to Outlook

" mode and lets you select the target

Outlook

profile for converted emails.
Target

Outlook

folder [Prompt to select the Outlook folder; Inbox] – sets the default folder for converted

Eudora

emails. Can be set manually for every conversion or set to "Inbox" as the default choice for all future conversions.
The "Mode" drop-down menu of Eudora to Outlook Transfer utility lets you choose the conversion mode: Outlook profile or PST file. Depending on your choice, your data will be saved either to an Outlook profile or a PST file. Note that Eudora to Outlook Transfer tool saves converted email messages to a standalone PST file by default (Save to PST mode). This is done to avoid a number of potential problems.
For instance, if your Outlook is configured to work with Exchange Server or a mail server over the IMAP protocol, you will see your imported messages disappear one by one immediately after you start Outlook for the first after email conversion. This will be caused by Outlook attempting to synchronize the content of your local and remote mailboxes. Therefore, we strongly recommend choosing the "Import to Outlook" mode only if you know what you are doing. In all other cases, use the default "Import to PST mode".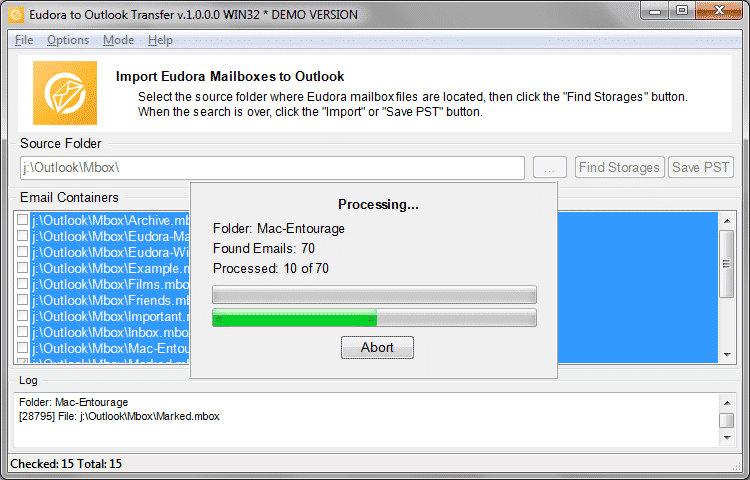 5. You can now proceed to file conversion. Click the "Save PST" button to begin. If you enabled the "Remind to disable antivirus" option, Eudora to Outlook Transfer software will ask you to temporarily disable any such tools to avoid potential issues prior to moving on with data conversion. Click OK to accept it, disable any anti-virus software running on your computer and continue. At this point, you may also see an MS Office configuration selection window – just leave everything "as is" and click OK.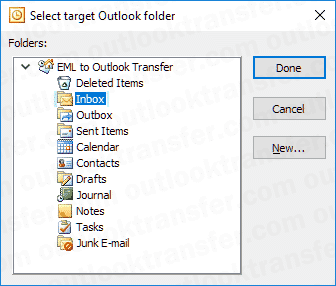 You will now see a special dialog for selecting a destination for converted emails. Pick an existing folder on your hard drive or create a new one, then click OK to start the email conversion process. If you chose to save data to an Outlook profile, the process will be identical, save for the destination folder selection step – instead, you will need to specify a folder in Outlook.
This is the end of the Eudora to Outlook Transfer user's manual. Should you have any problems with the program even after reading this manual, feel free to contact our support team – we will be happy to answer all of your questions.
Hassle-free email conversion!
Instant solution to convert Eudora emails to Outlook PST format and export Eudora messages to EML files. Download Eudora Converter and start your hassle-free Eudora migration now!
Other Tutorials
---
MSG to Outlook Transfer – User's Manual Even though "email conversion" may sound technical and complex, it is a fairly simple routine if you have the right tool at hand. Conversion…
---
Mbox to Outlook Transfer – User's Manual The primary goal of Mbox to Outlook Transfer software is to assist users in moving their emails from any email client supporting the Mbox format to…
---
Data Extraction Kit for Outlook is a powerful all-in-one tool for Outlook/PST email conversion, migration and data analysis. The product can be used for extracting emails and other objects from…
---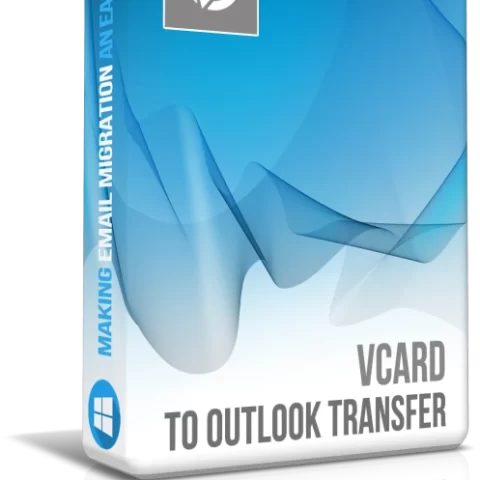 vCard to Outlook Transfer – User's Manual Transferring contacts from one system to another may seem like a complex task - and it can be if you do it manually.…
---
When it comes to managing large amounts of data in Outlook, one common issue that users face is the size limitation of PST files. PST files, which store all the…
We are sorry that this post was not useful for you!
Let us improve this post!
Tell us how we can improve this post?