At the beginning of 2020, there were many headlines about the IncrediMail shutdown of the desktop application for email correspondence. This took place on March 20, 2020. The closure left millions of users across the globe wondering which email platform to choose and how to transfer mailboxes, desktop applications for emails, and Webmail services from IncrediMail. So, search queries of IncrediMail to EML converter 1.0 and alike tools have become popular.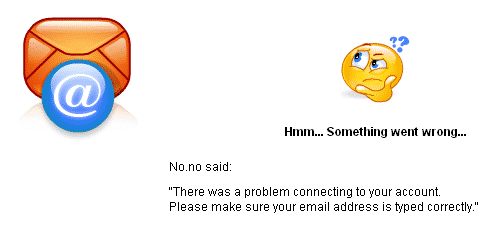 Luckily, nowadays, there are plenty of email platforms for users to choose from. Among them is eM Client. It is a good choice as it is compatible with both Windows and Mac operating systems, as well as quick and easy to download and use. This convenient email platform can become a decent substitute for IncrediMail.
Benefits of eM Client
One of the main advantages this platform offers to its user is compatibility with most versions of Windows OS, as well as with Mac. Even if you use outdated software, there is no reason to worry.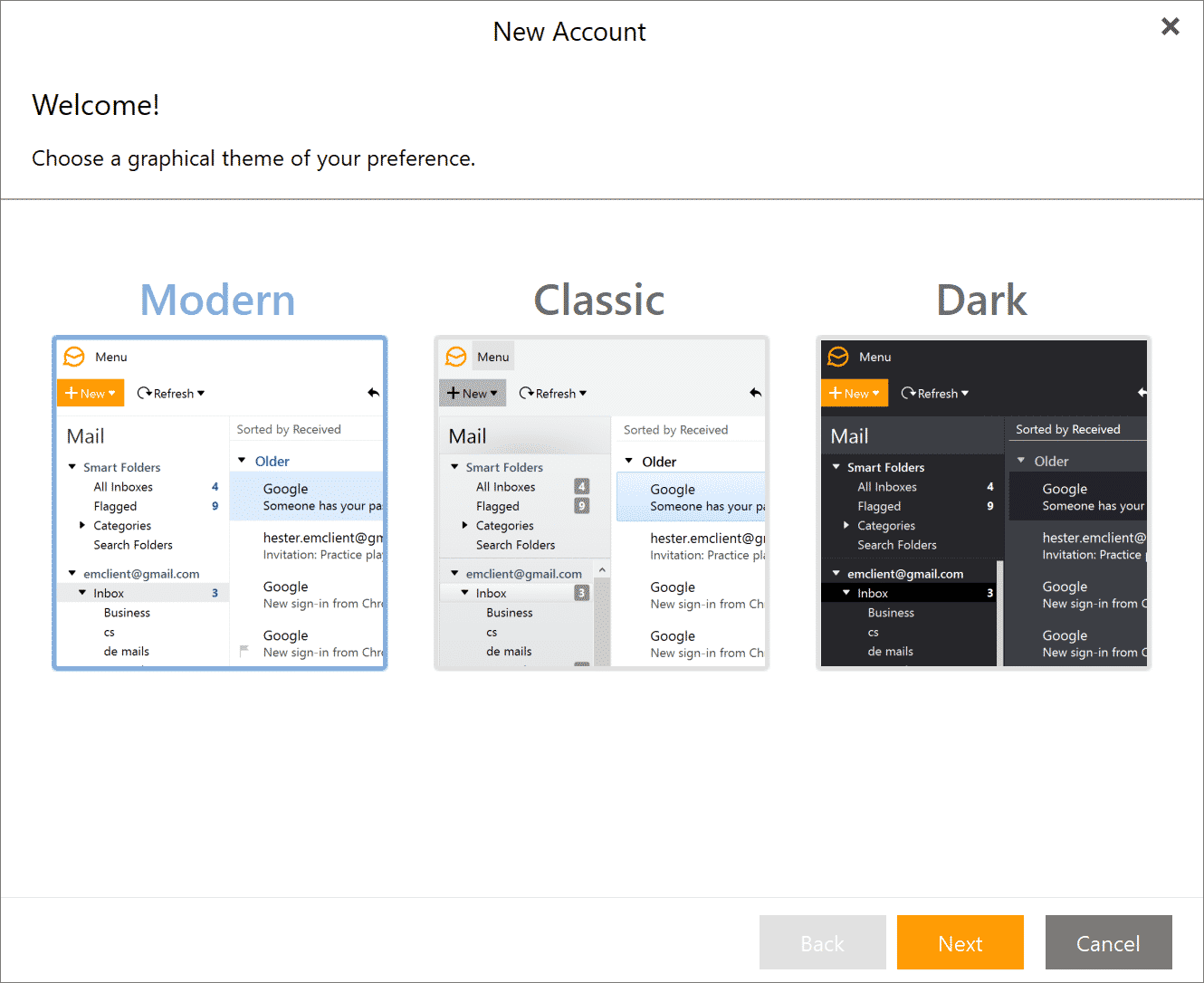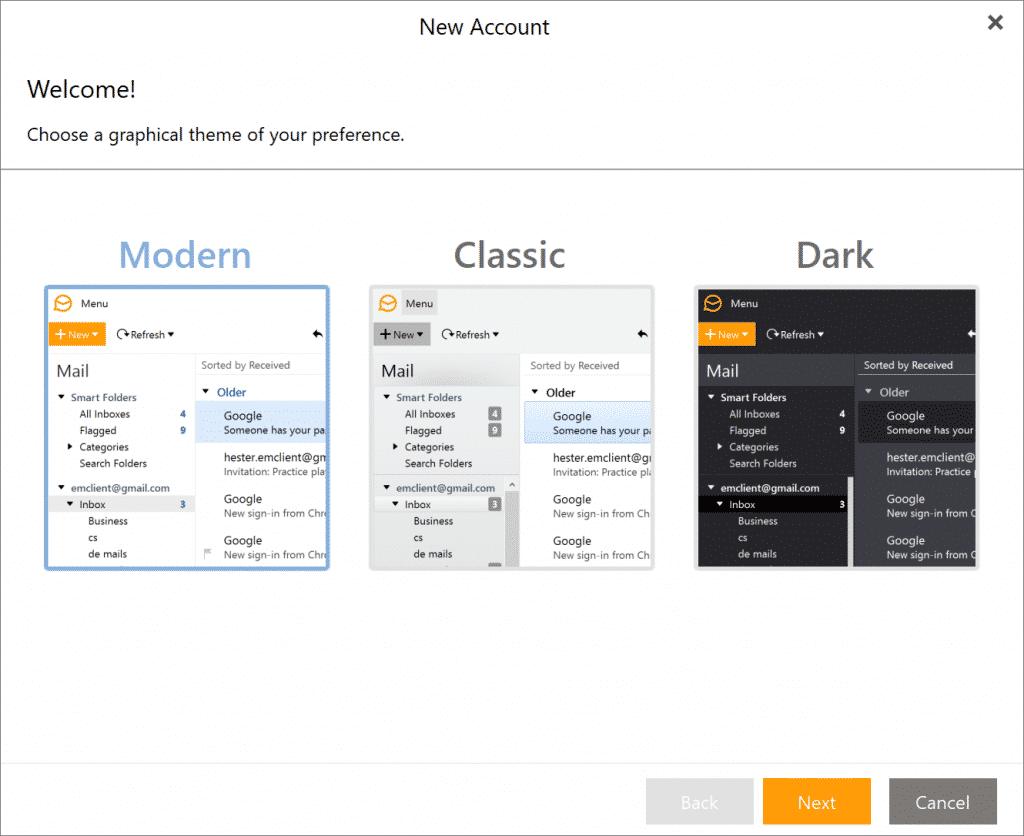 Em Client does not require too much space and will not slow your productivity.
This platform will work even on your old PC. When using this software, a user will also enjoy:
Compatibility with the most popular email services;
Integration of emails, contacts, calendar entries, simple tasks, and built-in chat;
The function of search among emails and attachments;
Absence of a pile of add-ons and features making it easy-to-use software;
And compatibility with all the standard protocols that are AirSync, POP3, IMAP, SMTP, and EWS.
Moving from IncrediMail to eM Client
You should begin with downloading software from the official website. This is a free service as long as you are not going to use it for commercial purposes. The free version will provide you with the option to maintain two email accounts. For business use, there is a PRO version that is unlimited and possesses numerous features.
Follow the steps proposed by the installation wizard and launch eM Client. If you have been looking for a way to import contacts from IncrediMail to eM Client or to get your IncrediMail messages transferred, then here is some good news for you. New eM Client version has a tool that will automatically carry out this procedure.
Import IncrediMail emails to eM Client
* - The unregistered version converts a limited number of messages
Download and install IncrediMail transfer utility and run it (run any version 32-bit or 64-bit).

Close the information message that Outlook is not accessible (if it will appear).
Click 3 dots button "…" (browse button) and choose the IncrediMail identity from the list of available Identities.
Use program menu Mode to enable the "Export to EML files" option.
Click "Save EML" button and specify the empty directory to save exported IncrediMail messages and folders.
Close IncrediMail Transfer tool when conversion will be finished and run eM Client.
Click menu File > Import…

Choose Email (.eml) item in the Files section and click Next button.

Enable "Include subfolders" option then click "Select folder…" button and choose eM Client mail folder to import emails.
Click Finish button and wait for the end of conversion.
Alternatively you may import IncrediMail messages into eM Client using the following method as well, however it is not always work:
eM Client Import Tool
Once you launch the client you have just installed, the import tool will automatically start.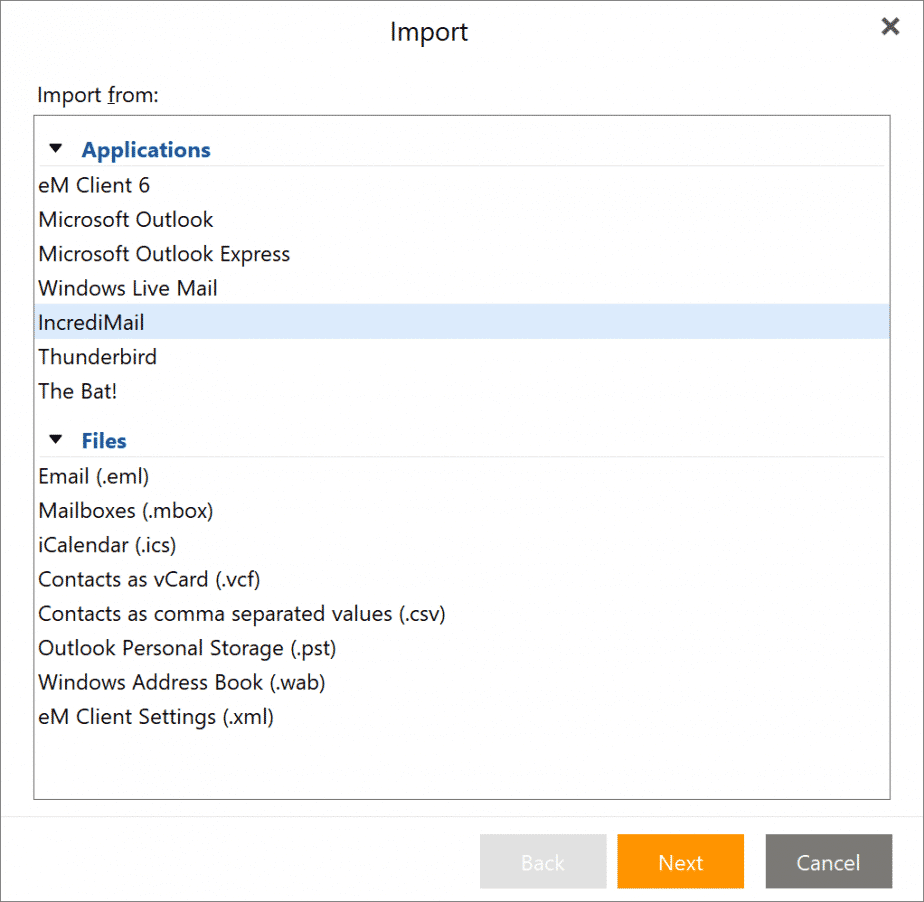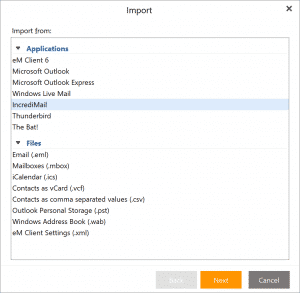 In the new account window, you will be prompted to import data and accounts from other applications installed on the PC (the tool detects them).
Choose IncrediMail from the proposed options and press Next.
Then, select an account or accounts, as well as emails and/or contacts. You may import your IncrediMail address book to eM Client or simply messages ➫ press Next.
That's all! Your emails and contacts from IncrediMail will now be available in your new eM Client account.
Alternative Ways to Transfer IncrediMail Data
If you are looking for a guide on how to transfer IncrediMail emails to another computer, there is a solution to this as well. This can be done if you have back up data from IncrediMail obtained before the official closure of the client. If the Import Tool of eM Client cannot detect IncrediMail account data, you can still import messages and contacts to the client. After the installation, go to Menu, press on File, and choose Import. If you need, let's say, to transfer IncrediMail sent mail to eM Client, find the files with sent messages on the hard drive and import them.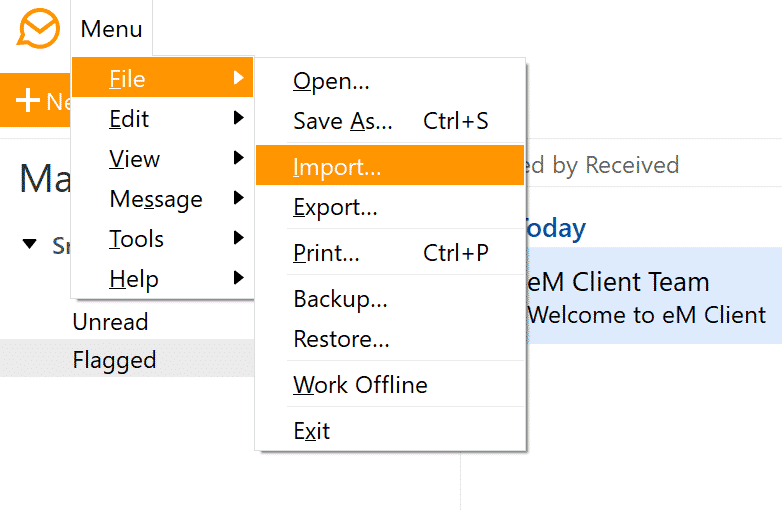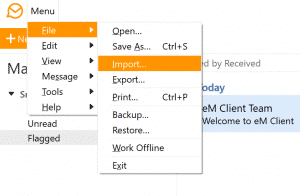 If you thought using IncrediMail was easy, then eM Client will be a great substitute for you. Even the process of importing your IncrediMail emails and contacts from back up files is easy and requires no specific skills, once again confirming that this client is suitable for even non-tech-savvy users.
Related articles:
More Knowledge Base articles
---
Email migration is a process of transferring emails and other data from one email platform to another. One of the most common email migration scenarios is moving from a different…
---
An MBOX file is a mailbox format that stores email messages one after the other as a plain text. Each individual message within mbox file stored in EML format. So…
---
Outlook is a widely used email client, which is professionally developed by Microsoft. It offers many advanced features to its users, such as emails, calendars, tasks, contacts, notes, and many…
---
Outlook is a popular email client used by millions of users worldwide. It is widely used by individuals, businesses, and organizations to manage their emails, calendars, tasks, and contacts. However,…
---
As a Microsoft Outlook user, you may experience the "Errors have been detected in the file xxx.ost" error message. This situation can be frustrating and confusing, especially if you rely…
We are sorry that this post was not useful for you!
Let us improve this post!
Tell us how we can improve this post?