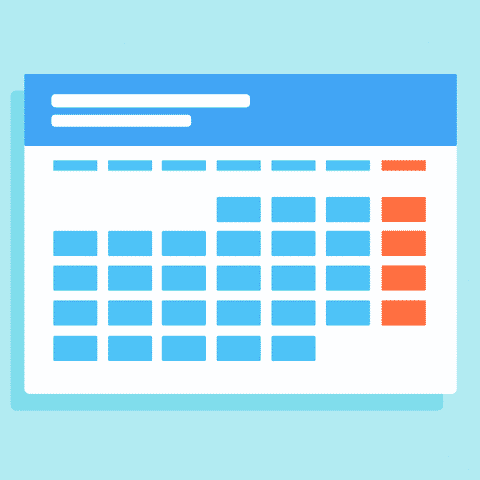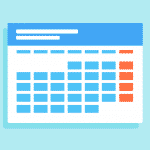 Not to miss out on any significant event and properly plan your efforts, it is critically important to have all of them stored in one place. This is where Outlook Calendars work perfectly well. Be it an important meeting, task preparation, or a personal event — the program will never let you forget anything and plan your time accordingly. Therefore, when a calendar fails, a user is faced with a real problem and doesn't know what to do.
At this point, you might need to know how to export Outlook Calendar to excel and be aware of what steps to perform to export Outlook Calendar to Excel 2013. Let's dig deeper into the question so that you could execute the operation yourself without paying to a person to do it for you.
Table of contents:
Why You Might Need to Export Outlook Calendar?
Going to switch to another email service? Need to have a back up with the most critical information? If it is the case of yours, then you need to consider exporting the Microsoft Outlook Calendar or synchronizing it with a different solution.
Managing two different calendars can be crap. But some situations make this business necessary. Here are some reasons that might be relevant to you if you want to add Outlook Calendar to Google:
You work at two different companies, where you need to use different email services.
Different calendars can serve different purposes — you may need the one for personal use, and the second option could be used for business purposes.
You travel a lot and trust Microsoft Outlook Calendar on your smartphone more than Google Calendar.
You have set up Google Calendar to work together on a specific task and would like to see the information in Microsoft Outlook.
No matter what the case of yours is, you would like to see events on both calendars or export Outlook Calendar to ics format and have it safely stored there. This is a good way to track all the information and be 100% sure that nothing will happen to it.
Outlook Calendar Export — Step-by-Step Guide
It is an easy thing to export Outlook Calendar to Google or any other email service. For the magic to happen, you just need to perform the following steps…
Automatic calendar export:
Download, install and run the Data Extraction Kit for Outlook software: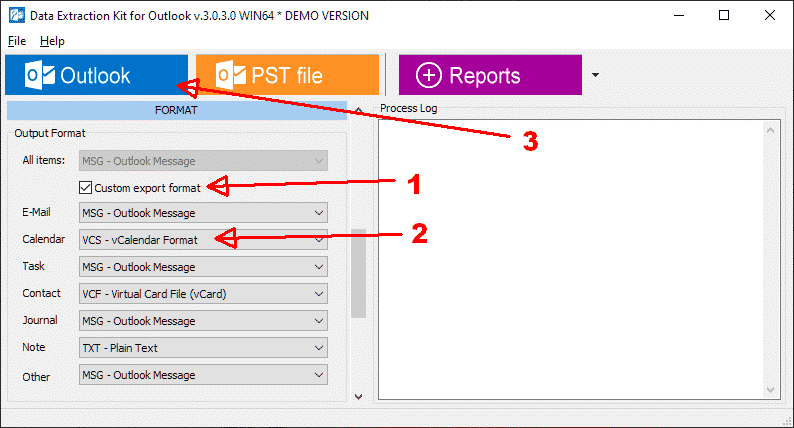 * - The unregistered version converts a limited number of messages
Enable the Custom export format option (enabled by default).
Ensure that Calendar dropdown contains VCS or ICS value related to the calendar file format.
Click Outlook button at the top menu if you exporting emails from Outlook profile. Alternatively you may click PST File button to export calendar from PST file.
Select the targed directory where you want to save exported Outlook calendar.

Select Calendar folder in the Outlook folders selection window and click Done button.
Program will start the exporting process and save all Outlook appointments to the selected directory.
This method is the best one as it is requiring no efforts and allows to export Outlook calendar in several different file formats which may be accepted by multiple software and services for import. Plus this method if free if you plan to export smal amount of calendar items. However if you prefer to export Outlook calendar manually, please read below.
Manual calendar export:
Open Outlook on your PC, tablet, or any other device, and go to the Calendar section.
Select the option E-mail Calendar (in other Outlook version it can be called Send a Calendar via E-mail):
Outlook 2010 — On the ribbon of commands of the Home tab, click on the appropriate key, which will make a new window open.
Outlook 2007 — On the navigation bar, click the Email Calendar.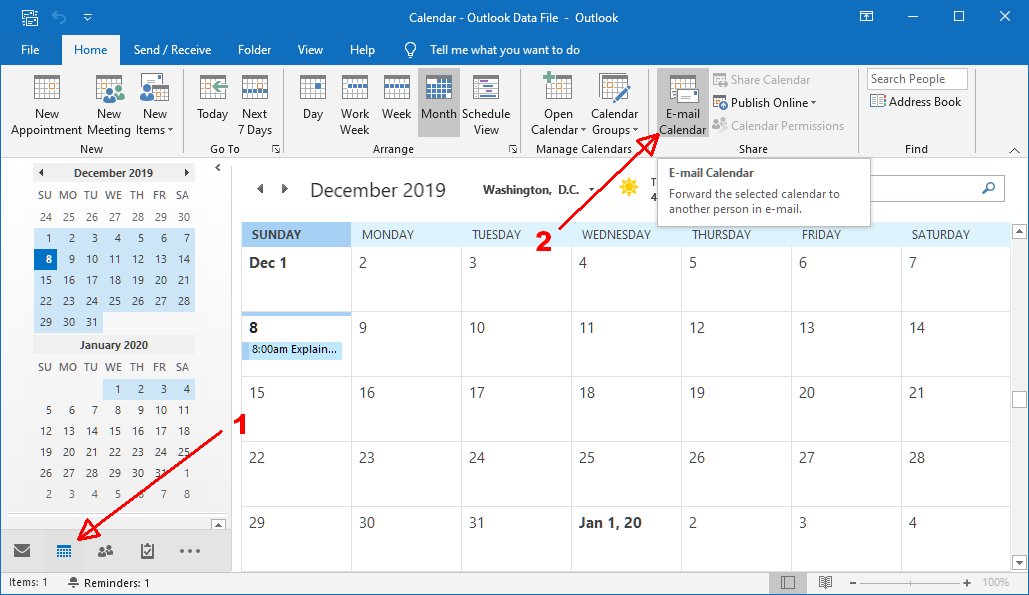 If you have more than one calendar, select the calendar from the drop-down list.
In the drop-down list of the next field called Date Range, select the option Whole calendar instead of Today.
In the Detail field, select the Full details.
Click on the Show button in the Advanced field.
Check the box next to Include details of items marked private.
In the drop-down list of the field Email message layout list, select List of events. The layout of the message is not that important, but it's better to select List of events rather than Daily schedule as this makes the task for Outlook easier and significantly reduces the time of export Outlook Calendar to Gmail execution.
Click OK. You will be asked to confirm that you want to send the entire Calendar.

Click Yes. Outlook will collect the Calendar data, open a new email, and attach an iCalendar file with the collected data to it. Thus, you can export Outlook Calendar to icloud or any email service that you are going to use in the future.
At this stage, you have two options:
If your Mac and PC are connected to the network, right-click on the Calendar file attached to the letter, select Copy, open the public folder, and press Control + V to paste it in there.
Enter the email address that you can open on your Mac and click Send. Open the email in Mac and drag the attached file to your desktop or any other folder.
Click the Finish button — and Outlook will export the data. Now you can import the calendar into iCal / Calendar.
No matter if you need to export Outlook Calendar to pdf or Gmail, using a special service for this purpose will save you a lot of time and efforts. Thus, you can export Outlook Calendar to Word is several minutes and be sure that no information is damaged, lost, or deleted.
Final Say!
So if you need to export Outlook Calendar to android phone, pdf, or any other format, get ready for the task. Go not use the very first solution you find. Approach the task with all the responsibility; otherwise, you risk failing or having problems with the data being exported.
Read also:
More Knowledge Base articles
---
Email migration is a process of transferring emails and other data from one email platform to another. One of the most common email migration scenarios is moving from a different…
---
An MBOX file is a mailbox format that stores email messages one after the other as a plain text. Each individual message within mbox file stored in EML format. So…
---
Outlook is a widely used email client, which is professionally developed by Microsoft. It offers many advanced features to its users, such as emails, calendars, tasks, contacts, notes, and many…
---
Outlook is a popular email client used by millions of users worldwide. It is widely used by individuals, businesses, and organizations to manage their emails, calendars, tasks, and contacts. However,…
---
As a Microsoft Outlook user, you may experience the "Errors have been detected in the file xxx.ost" error message. This situation can be frustrating and confusing, especially if you rely…
We are sorry that this post was not useful for you!
Let us improve this post!
Tell us how we can improve this post?