Email client is undoubtedly one of applications where you spend most of your working time with. Surely, enhancing your user experience is always welcome, especially if it costs you nothing and saves you a lot of time and effort, every day. In this article, we present twelve tips to simplify your everyday life when you work in Mozilla Thunderbird.
Tip #1. How to remove the Thunderbird Welcome Screen completely
By default, every time you launch Thunderbird it displays a Welcome Screen in the message area: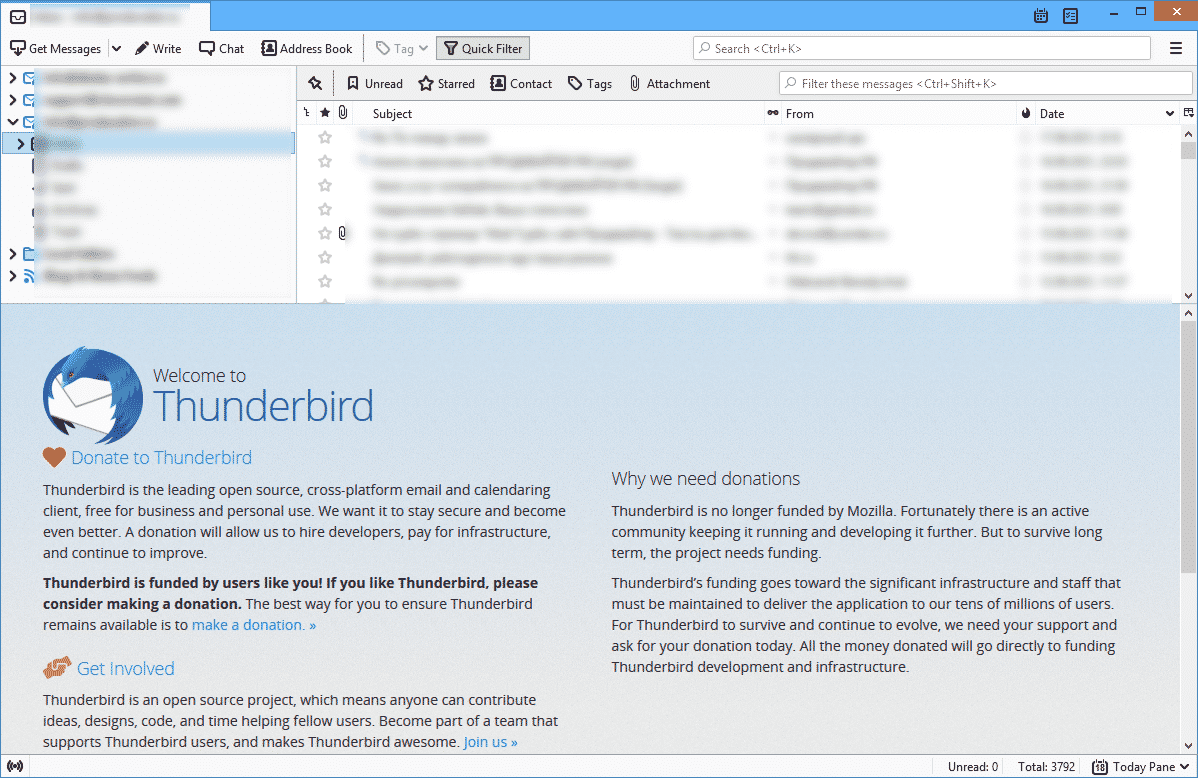 Probably, seeing this for the first 20 or 30 times was ok, but now you want to stop this. Here is how.
Click the "Tools – > Options" menu. If you don't see the main menu, press Alt on your keyboard once.

Switch to the "Global" tab and deselect the "Show the Start Page" option.

This disables the Welcome Screen from appearing after every Thunderbird launch.
Although, you still can display the screen at any time. For example, if you decided to donate. To display the Start Page, simply press Alt + Home. Or click the Thunderbird Menu button, then click "Go" and choose "Mail Start Page".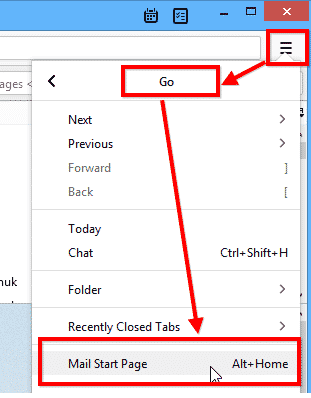 Tip #2: How to transfer email from Thunderbird to Outlook
While Mozilla Thunderbird remains in the top-5 of email clients for a reason, it still has its flaws. So sometimes users decide they need to switch to Outlook and start wondering how to transfer all email from Thunderbird to Outlook. We covered some reasons to move to Outlook in this article, so here we will merely show you the way.
To transfer all emails from Thunderbird to Outlook, we recommend using our Thunderbird to Outlook Transfer tool. This semi-automatic software eliminates most difficulties users typically face with while trying to migrate to Outlook, such as: lost emails, damaged encodings, partially converted emails, problems importing emails from Thunderbird to Outlook and so on.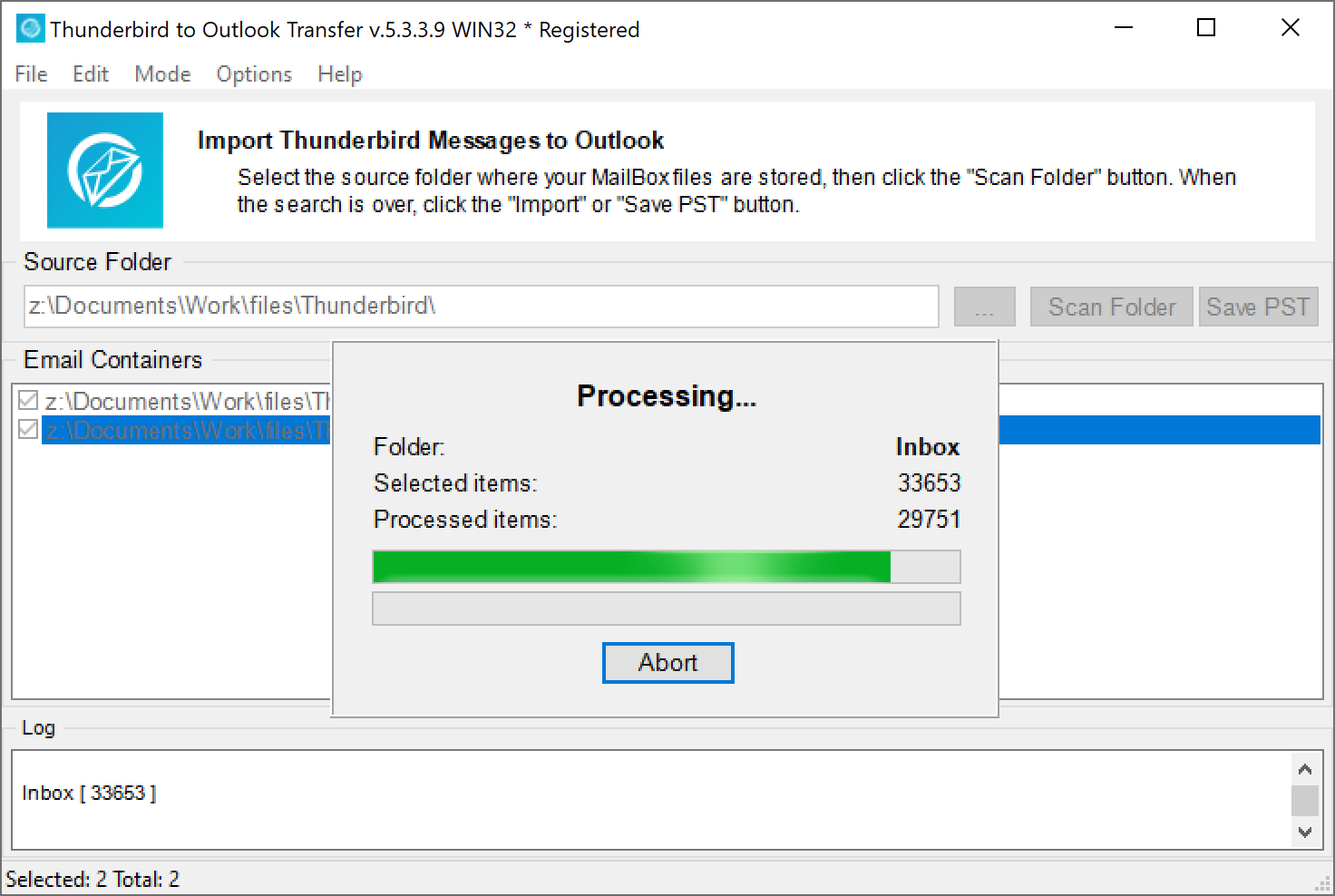 Here is a detailed guides on how to transfer emails to Outlook, even if there are gigabytes of them.
Tip #3: How to view a message header
This one is a bit technical. As you might know, every email message has a header – a chunk of technical information that shows how the message was delivered, what format is has, when it was sent, what encoding it has and so on. Sometimes, this information may be crucial, but the default behavior of most email client including Thunderbird is to hide mail headers completely.
If you want to display message headers, you have two options:
Select a message in the message list, then click the "More" button and select "View Source".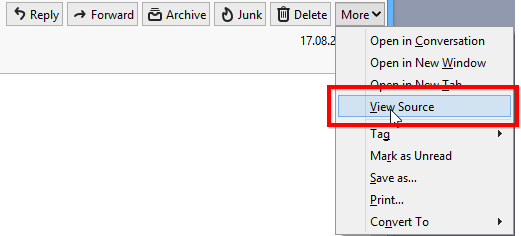 This will open the email message source in a separate window, where you can see all its headers:
The second option is to open the View menu and select "Headers – > All" option. If you don't see the main menu, press the Alt button once.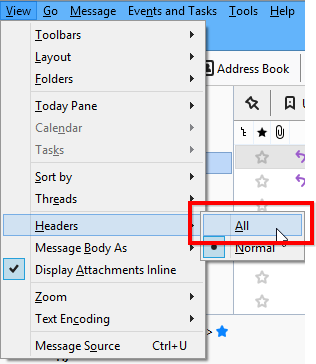 This way, you will see headers in the message area of the program: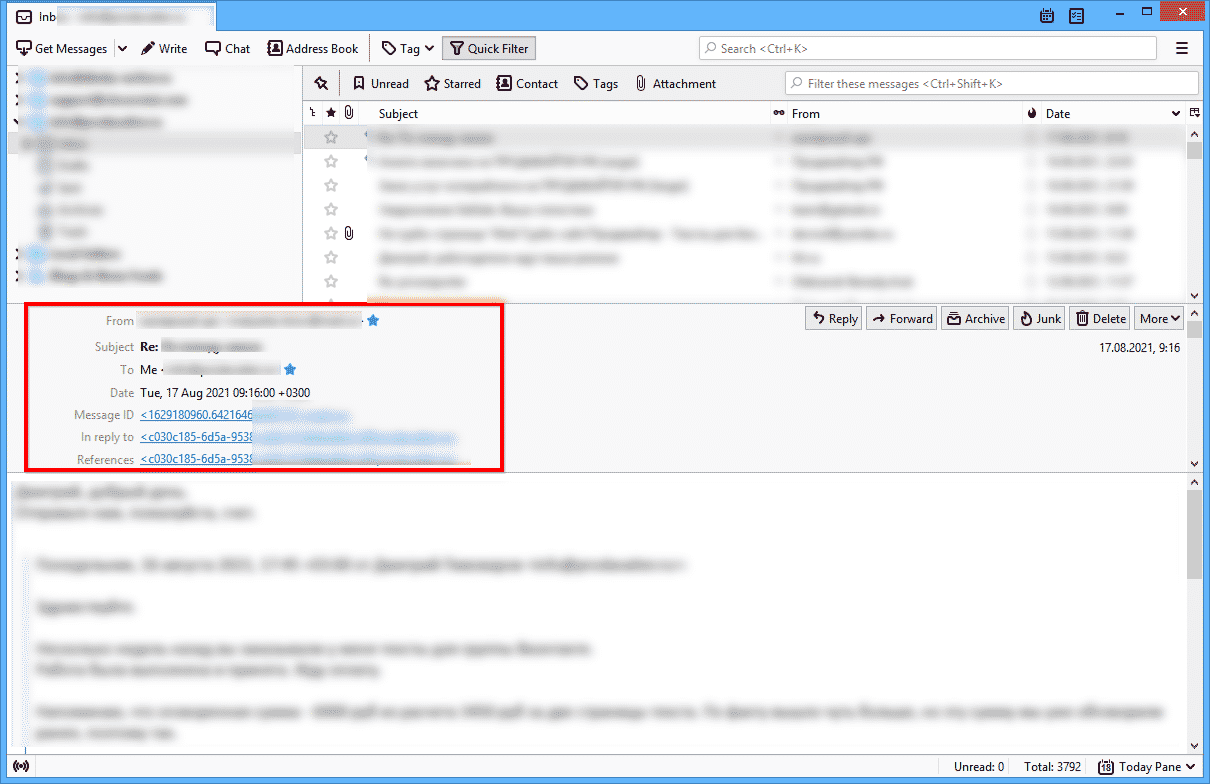 Tip #4: How to mark multiple messages as read in Thunderbird
Suppose you don't want to scroll through a particularly long conversation the essence of which is already known to you. Not to mention read every message in the thread. How do you mark this thread as read in Thunderbird without having to open every single email? Here is a simple trick:
Select a folder or a message thread.
Press Shift+C.
Easy-peasy.
If you want to mark multiple message in a folder as read (but not the entire folder), you can use the following method instead:
Select multiple messages you want to mark as read. See the next tip for a quick way to do this.
Right-click the selected messages and select "Mark -> As Read" in the context menu.

Note that you can also mark messages as read by date. For instance, to mark all emails before the specific date or in a date range as read. To do this, select "As Read by Date…" menu item.
Tip #5: How to select multiple messages in Thunderbird with mouse only
If you work with a computer for longer than a few days, most likely you already know how to do multi-selection using the keyboard. Hold Shift for range selection, hold Ctrl for individual selections.
However, in many situations multiple selection with mouse is preferable. After all, why move your palms to the keyboard, if you are an all-mouse user of Thunderbird? And yes, Thunderbird do provide such an option.
To select multiple messages in Mozilla Thunderbird:
In the messages list, click the Columns Selection icon in the header of the list.

Click "Select Messages". This will display the column that allows you to select any number of messages with your mouse.

Tip #6: How to set the reply above the quoted text in Thunderbird
Many of us prefer quoting the original message below the reply. The default behavior of Thunderbird may be different, though. Here is how to turn on the reply-above-quotation style:
Right-click the email account in the left list where all your email profiles are.
Select "Settings" to open the Account settings window of the selected email account.
In the Account settings window, switch to the "Composition & Addressing" section.

Turn on the "Automatically quote the original message" option and select the way to place your reply: above the quotation or below it.
Tip #7: How to set the Dark Theme in Thunderbird
This tip is for those of you who are night persons. Dark themes are designed to reduce eye strain when working in the low light conditions. Some people use dark themes even at daytime, which is also totally ok. Fortunately, Mozilla Thunderbird has a built-in Dark Theme too. Here is how to enable it:
Click the "Tools" menu and select "Add-ons". If you do not see the Thunderbird main menu at the top of the window, press Alt on your keyboard once. Alternatively, you can use the Thunderbird Menu button.

In the Add-ons Manager window switch to the "Themes" section
Select the Dark theme and click the Enable button near it.
Tip #8: How to minimize Thunderbird to the system tray
You may want to minimize Thunderbird to the system tray to save some space on your taskbar. The system tray is an area near the clock, typically residing the lower-right corner of the screen. There is a built-in option to allow Thunderbird minimizing to the system tray.
Click the "Tools -> Options" menu. If you don't see one, press the Alt button on your keyboard once.
On the "General" tab, select "When Thunderbird is minimized, move it to the tray" option.

Sometimes, you may not see the Thunderbird icon in the tray. This could be because Windows hides tray icons to save space. In this case, click the arrow near the tray icons, and a pop-up window with all the icons will show. Drag-n-drop the Thunderbird icon to the tray to make it always visible.
Tip #9: How to update your email password
Once in a while you update your passwords for security reasons. And after the password to your email account changes, you need to update your email password in Thunderbird too. Here is how to do this.
After you changed the password on your email server, close Thunderbird if it is running and start it again.
If Thunderbird is configured to check for new mail at launch, you may see an error messages telling you that Thunderbird couldn't connect to the mail server. Dismiss this message.
Click the three horizontal lines button (the "Display Thunderbird menu" button), then select "Options".

In the "Options" window, switch to the "Privacy & Security" section. Scroll down to "Passwords" and click the "Saved Passwords…" button.

In the "Saved Logins" window, click the "Show Passwords" button. Answer Yes on the security question.

Passwords to the email accounts will be shown in the list. By the way, this is a convenient way to recall a forgotten password in Thunderbird.
Right-click the email account you want to update the password for. Select "Edit Password". Enter the new password for your email account. This is it!
Tip #10: How to group messages
Grouping messages is a simple yet efficient way to organize emails so that they would not overwhelm you in time. There are other tools to help you organize your correspondence. Mastering all of them can skyrocket your productivity. But we digress. Here is how to group your messages by various parameters.
Select an Inbox or a folder.
Click the "Tools" menu. If you don't see it, press Alt on your keyboard.
Open the "Sort by" submenu. Here, you can select how to sort messages in the selected Inbox or folder. Let's suppose you want to sort items by Priority.

Now, high priority messages will be shown first. But Thunderbird also allows you to group these now sorted messages by sort. See the last item in the menu? That's exactly what we are talking about. After applying the sort, bring up the menu once again and select "Grouped by Sort".

See? Messages are not only sorted now, but are also grouped by Priority with the high priority messages being on top.
Needless to say, you can use the same technique to group messages by subject, recipient, sender and other email fields. This allows you to navigate through your messages easily, locate what request your immediate reaction, and postpone everything that does not.
Tip #11: How to display only unread messages
One simple tip to make Thunderbird display only messages you haven't yet read. No sorting, grouping or advanced filtering involved. Instead, we will use the Thunderbird's feature called "Quick Filter".
On the message list toolbar, click the "Quick Filter" button. This will display the Quick Filter panel where you can select how to filter messages in the list, in literally one click.

For example, to quickly display only unread messages, click the "Quick Filter" button, then click Unread.
Tip #12: How to send CC and BCC to multiple addressees
Let's say you want to send documents to several recipients, plus send a carbon copy to several other recipients, AND you also want to BCC the same email to some other contacts. In Thunderbird, you can do this pretty much effortlessly.
When you compose a message or reply, you can see these buttons in the address bar:

Clicking this buttons displays the corresponding address fields, so you can add more contacts as recipients with a click.

Moreover, you can easily move a contact between fields too. Let's say you have put some contact to the "To" field, but later decided to CC it instead. No problem, right-click the contact in the address bar and select "Move to Cc".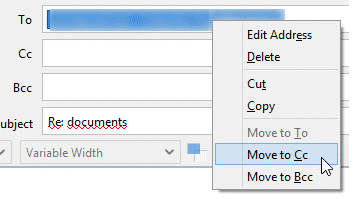 Read also:
We are sorry that this post was not useful for you!
Let us improve this post!
Tell us how we can improve this post?