In new version, importing gets even faster, and all tools introduce a new Outlook wrapper that makes importing of large quantities of emails much easier.
The best Outlook importing gets even better
The new version update 5.3.0.0 brings in a serious improvement making importing of messages from various e-mail clients into Outlook both faster and more stable. The update comprises all products (except Data Extraction Kit). Let's take a deeper look at the update.
First of all, in the new version of the engine the importing module was greatly speeded up. The already fast importing became even faster. Each our program utilizing the engine now demonstrates notably higher performance, especially with the message boxes that have complex folder structure.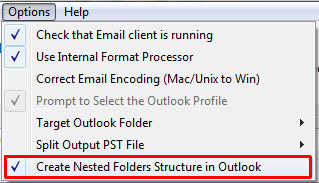 The second improvement is optimization. Turned out, the default Outlook import handler could sometimes result in a MAPI error (MAPI_E_NOT_ENOUGH_MEMORY) when it came to processing of a large quantity of messages (more than 64 000). This meant a user had to split the mailbox onto several parts and import them to Outlook one by one. Surely, that sucked, so we developed our own Outlook wrapper that replaces the default one and can safely deal with enormous numbers of messages in a mailbox. Millions to be precise.
Also, the new version 5.3.0.0 enables for all programs a handy option to disable automatic replication of the Outlook folder structure in case you want to import all the messages and folders into the same folder in Outlook or PST. By default, the option is off, which means our programs will automatically create a copy of the folders structure in Outlook.
You can download the latest versions of the software here.
Other Updates
---
New release of Outlook Transfer software introduces the batch messages conversion to PST format with
Read more
---
This version of Data Extraction Kit for Outlook implements the "List of recipient email addresses",
Read more
---
We've been working hard to get our software ready for the Microsoft Office Security update
Read more
---
All email importing tools were updated with new command line parameters allowing to pre-define the
Read more
---
In new version, importing gets even faster, and all tools introduce a new Outlook wrapper
Read more
We are sorry that this post was not useful for you!
Let us improve this post!
Tell us how we can improve this post?